Multi-purpose logistic complex Vrtojba – Gorizia (Slovenia – Italy)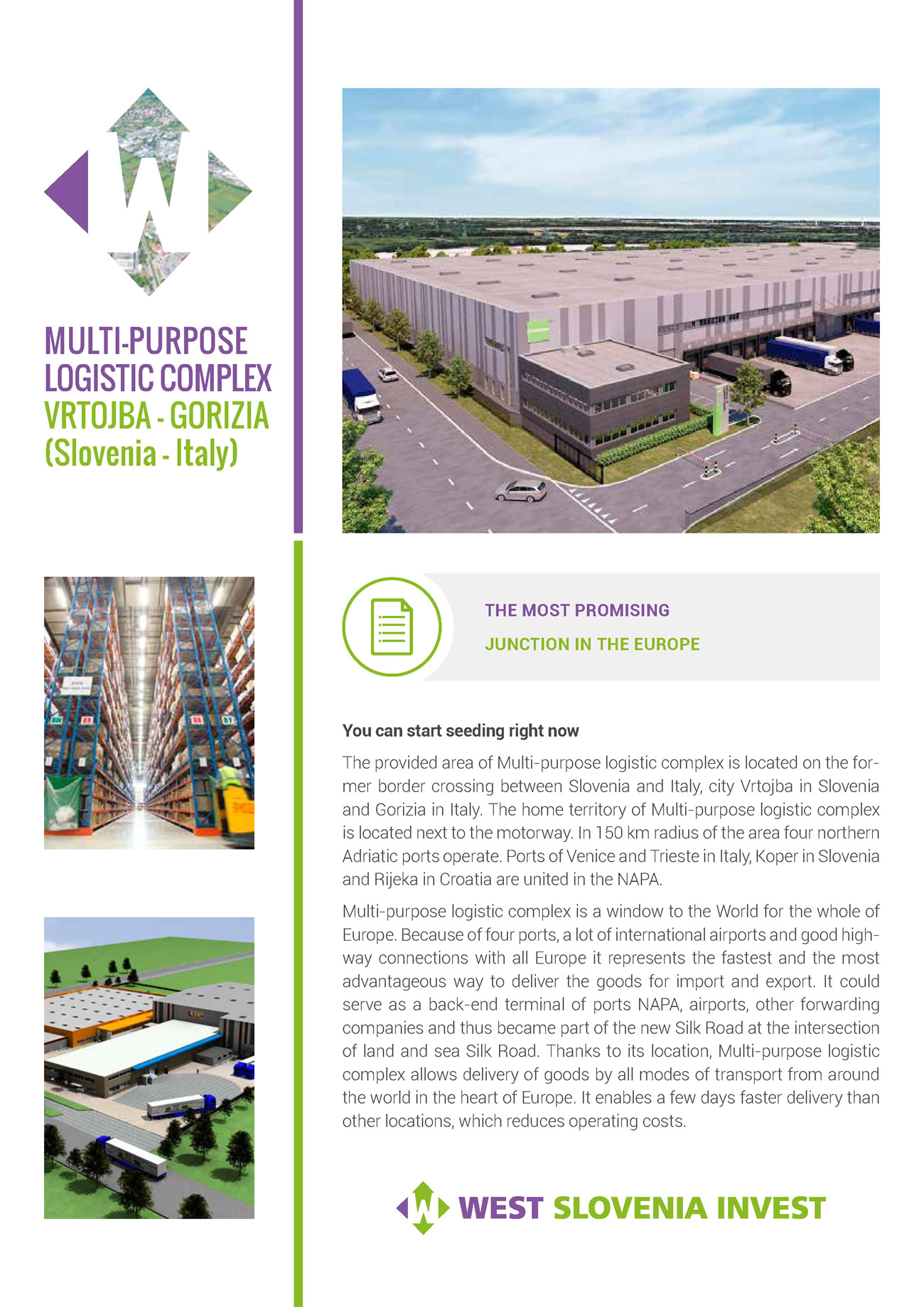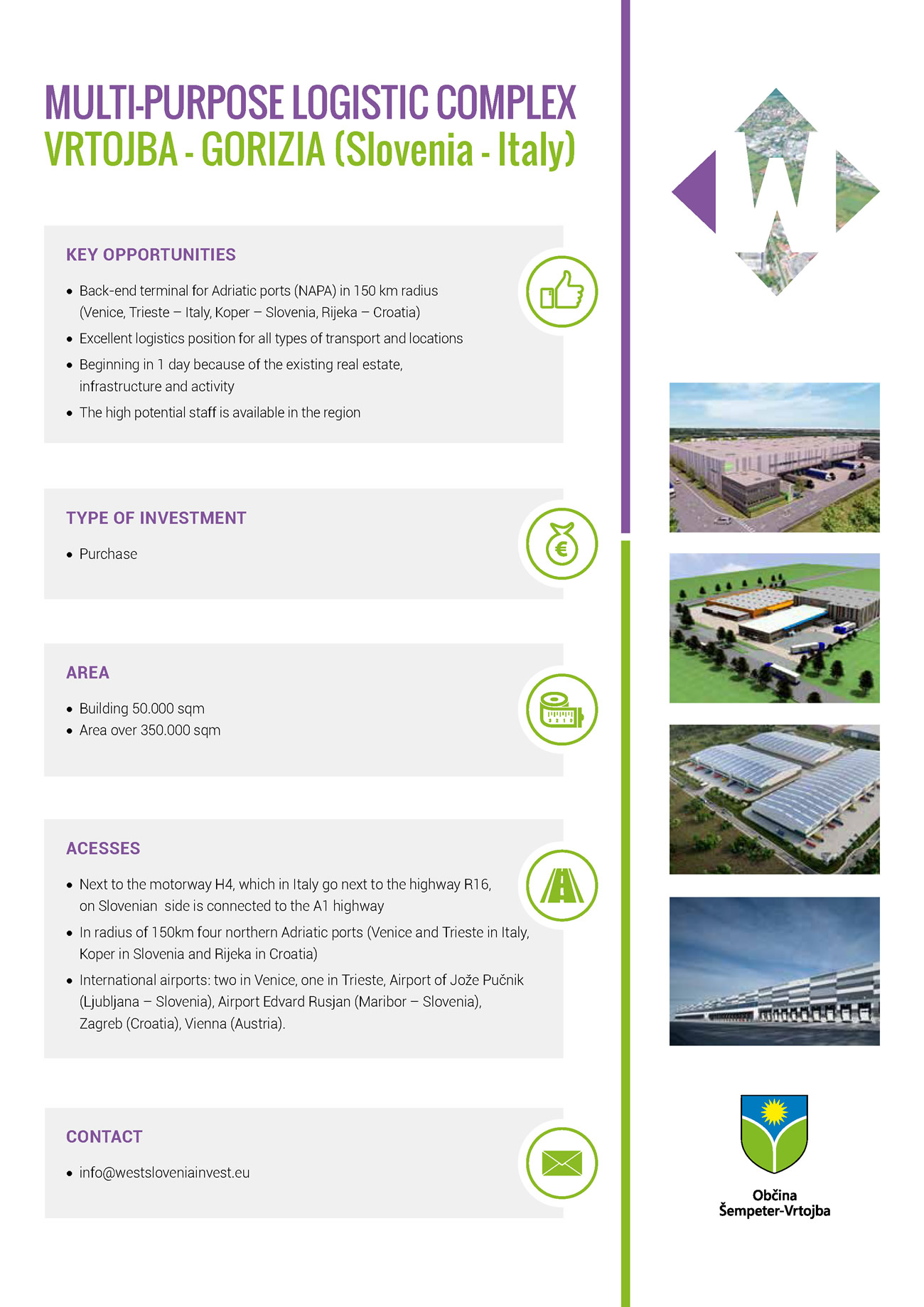 The provided area of Multi-purpose logistic complex is located on the former border crossing between Slovenia and Italy, city Vrtojba (Municipality Šempeter – Vrtojba) in Slovenia and
Gorizia (Municipality Gorizia) in Italy. Until the entry of Slovenia into the European Union (year 2004) were in the area carried out all the services that were needed for crossing the border from both states.
The home territory of Multi-purpose logistic complex is located next to the motorway H4, which in Italy go next to the highway R16, on Slovenian side is connected to the A1 highway. The area has in radius of 150km four northern Adriatic ports (Venice and Trieste in Italy, Koper in Slovenia and Rijeka in Croatia) which are united in the NAPA (http://www.portsofnapa.com/). There are also more international airports: two in Venice (Italy; http://www.veniceairport.it/ ), one in Trieste (Italy; http://www.aeroporto.fvg.it/), Airport of Jože Pučnik (Ljubljana – Slovenia; http://www.lju-airport.si/ ), Letališče Edvarda Rusjana (Maribor – Slovenia; http://www.maribor-airport.si/ ), Zagreb (Croatia; http://www.zagreb-airport.hr/), Vienna (Austria; http://www.viennaairport.com/ ), etc.
Regulated are also rail connections to the center of the logistic area in Vrtojba (Nova Gorica – Šempeter – Vrtojba). Hinterland territories are available in nearby towns. In the municipality of Ajdovščina is avaliable more land parcel, commercial buildings and other infrastructure with the same characteristics as in the home teritory of Multi-purpose logistic complex. The purchase of land is subsidized by the municipality of Ajdovščina. Most of the buildings intended for logistics activities are away from the highway between 2-3 minutes with truck. In that area operates also two truck terminals (Slovenian and Italian), with associated infrastructure and already operating activities (the freight forwarding business, truck service, laundry service for trucks, restaurant, more transport companies, several warehouses for various activities, etc.). Location of Multi-purpose logistic complex place allows easy and the fastes collaboration with transport companies from other
countries (BiH, Serbia, Romania, Bulgaria, Poland, Spain, France, Turky, Russia, Ukraina, Slovakia, Cezch Republic, Hungary, Italy, Slovenia, Austria, Germany, Netherland, Scandinavian countires, etc.). This is the reason for the large flow of all types of transportation between states in the West and East and also North and South. The most important is proximity to ports and airports, which represent a window to the World.
Very important fact is that area has a high potential staff (several primary and secondary schools as well as universities). Training covers a very wide scope (technical professions, traffic education, language studies, etc.). In the same time all investors have good chances to receive funding from European Union and create one of the most important Multi-purpose logistic complex in Europe.
To sum: Multi-purpose logistic complex is a window to the World for the whole of Europe, as well as the fastest and the most advantageous way to deliver the goods for import and export, becauese of 4 ports, a lot of international airports and good highway conections with all Europe. These means that it could serve as a back-end terminal of ports NAPA, airports, other forwarding companies and became part of the new Silk Road at the intersection of land and sea Silk road. Multi-purpose logistic complex with location allows delivery of goods by all modes of transport from around the world in the heart of Europe. It enables a few days faster delivery than other ports, which shortens delivery time and reduces operating costs.